The mining industry continued with its renewed sense of confidence at one of the world's largest mineral exploration conferences in Toronto in early March – PDAC 2018.
Early reports from the organising committee boasted an increase in attendee numbers this year to over 25,000 delegates – a clear sign that the mineral exploration and mining industry is building momentum.
"This year's convention was full of energy and excitement for the year ahead," says PDAC President Glenn Mullan, referring to sold out exhibitor space, panel discussions, courses, workshops, and networking events such as the prestigious Awards Gala. "After experiencing several years of economic challenges, today the mineral exploration and mining industry is experiencing a renaissance and renewed sense of confidence."
S&P Global Market Intelligence released its annual exploration analysis in a special PDAC edition market report which highlighted the positivity for the exploration sector. The report announced "global spending on the search for nonferrous metals rose to an estimated $8.4b in 2017", a 13% increase from the previous year. This represented the first annual increase in exploration spending after four consecutive years of declining investment in the search for nonferrous metals. In addition to the increase in spending, the analysis also noted stronger exploration activity throughout the year.
acQuire attended the four day convention and trade show which ran from 4 – 7 March, hosting a booth in the Trade Show to showcase latest technology developments. Here, we give our insights from the convention.
acQuire at PDAC 2018
acQuire's Trade Show booth, 823, was again a hive of activity at this year's PDAC. Conference delegates were introduced to the next GIM Suite software release – GIM Suite 4. Due out in mid-2018, GIM Suite 4 puts acQuire customers on the road to the digital mine of the future by introducing a range of new features for smarter, streamlined geoscience data.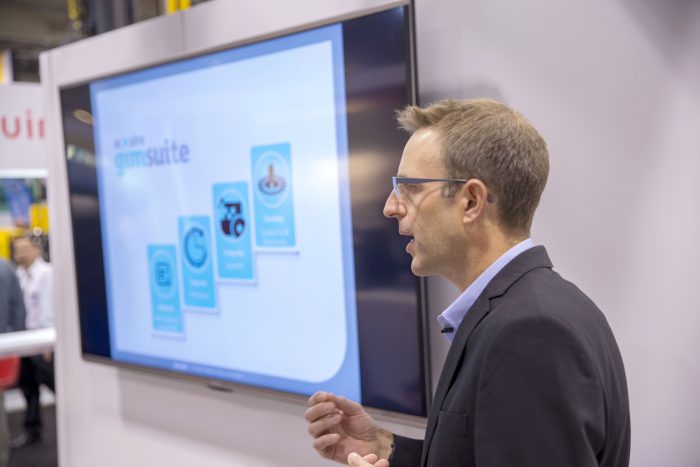 GIM Suite 4 introduces an all-new interface called Arena, consolidating capabilities spread across Neo Desktop and Neo Web into a single, streamlined tool, allowing Database Administrators to easily build interactive dashboards and reports for a better end-user experience.
In addition to the next software release preview, acQuire hosted a series of talks with industry guest speakers. The panel discussion on "What does the digital mine mean to you?" was a key highlight, featuring Stan Wholley, American Operations/President of the Americas at CSA Global; David Eden, Director – Technical Strategy at Kinross Gold; and Mike McClelland, Director of Exploration at Cameco Corporation. Hosted by acQuire's Managing Director, Alison Atkins, the group discussed current trends for the mining industry as it moves towards the digital mine, new technologies entering the mining space and how data will play a crucial role in the success of the mines of the future.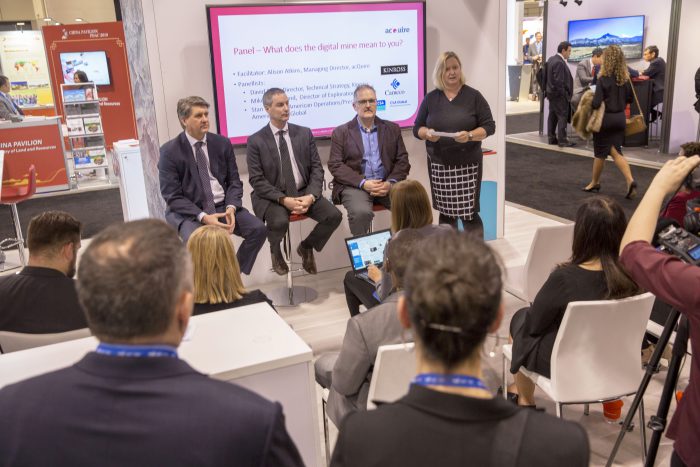 If you would like to receive the video recording of the full panel discussion, sign up to our email updates here.
Technology and innovation lead the way
Mining and exploration is starting to see an explosion of data with ever larger datasets being created from new sources. More data is available from sources such as drones and sensors as the industry embraces these technologies. New data streams are being mixed with traditional data acquisition methods that have been used for years.
As the industry starts to test new technologies to drive greater efficiencies over the mining value chain, it is crucial to maintain technological best-practice to ensure future success. Alex Christopher, VP Exploration at Teck Resources stated that technology and innovation will be the industry's biggest topics for the future, in his speech at PDAC's opening ceremony.
Daniel Malchuk, Minerals Americas, BHP presented "Re-shaping the Future" in the Keynote Session: Industry Review – Lessons for the future and shared BHP was looking into new technologies, like machine learning, but only just starting to test them. Their aim is to improve meeting targets and increase the likelihood of finding the next, good ore deposit using machine learning.
Other companies, such as Goldcorp, shared exploration insights from their analytics and cognitive computing pilot program at Red Lake Gold Mine. The pilot program is a collaboration between Goldcorp and IBM to share expertise and technology to innovatively work together to understand how cognitive computing can help unlock insights into exploration.
Teck Resources showcased MineLife VR at their booth, designed by start-up LlamaZoo. It gave visitors to the booth a chance to don a VR headset and get an accurate view of Teck Resources Galore Creek project. People could navigate future site facilities, infrastructure and dive into the proposed mine as well.
Seeing larger mining companies exploring the use of new technologies such as these gives a glimpse of exciting times ahead as the mining industry discovers new ways of working and real-life uses for them.
The popularity of innovation was also highlighted at Goldcorp's #DISRUPTMINING innovator accelerator event held on Sunday 4 March. The sold out innovation expo and finale signalled the eagerness of delegates to see new technologies and ideas presented to solve some of the biggest challenges in mining.
Commodity optimism to continue
The 2018 outlook is for sector-wide economic and commodity optimism to continue. Paul Robinson from CRU Group noted the biggest commodities for 2017 were copper, cobalt, zinc, gold and iron ore with predictions for a stronger demand for cobalt, copper and iron ore in the year ahead. Battery metals continue to be the flavour of the moment with automotive demand for lithium, cobalt and nickel high. These metals will remain a focus for exploration companies and investors.
Mark Ferguson from S&P Global Market Intelligence reinforced CRU Group's predictions for stronger demands in battery metals. He also noted exploration for lithium and cobalt was rising faster than the average and gold and base metals continue to dominate exploration focus.
Overall, the industry is seeing industry conditions rising, exploration budgets increasing and greater activity on the ground.
If you didn't get to the acQuire booth at PDAC this year, sign up to receive our email updates for recordings of all booth presentations and podcasts hosted from the Trade Show floor.