Over 40 database managers, geologists and technical professionals came together in May for a half-day seminar at the Bells Function Centre in Perth to discuss the facets of managing geoscientific data, software connectivity, latest technology tips and tricks, and collaborative workshops on important industry themes.
The event series is a platform for the global mining and exploration community to share ideas, learn about GIM technology and meet with GIM experts.
The Perth program featured guest speakers from BHP Billiton, Fortescue Metals Group, acQuire Technology Solutions, and acQuire's technology partner, Reflex.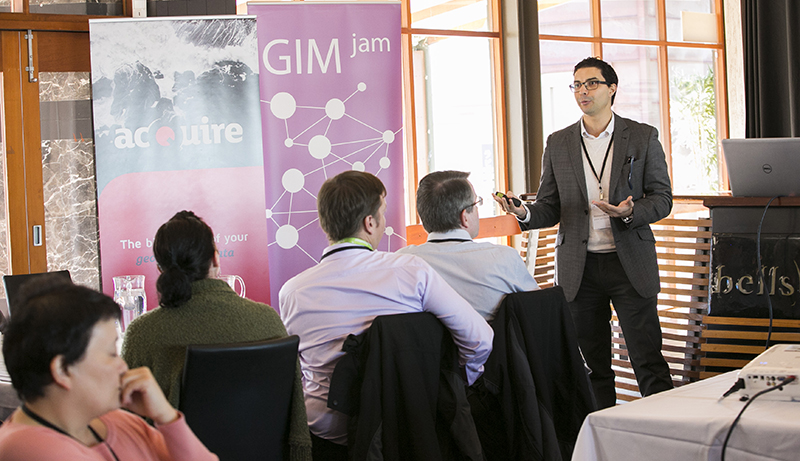 We take a look at the key insights from the day:
Integration
GIM 'jammers' were given an insight into BHP Billiton's improvement to SG data capture using integrated equipment at Olympic Dam. GIM Suite was being used to help streamline the capture of SG data set by core processing staff.
Benefits found in their overall site workflows included easier manual handling, better productivity and greater transparency. If there were issues, the meta-data expedited the process for detection and rectification of those issues.
Partnership
Fortescue Metals Group showcased their integration between Corescan's, Coreshed and acQuire's, GIM Suite technologies, to have better integration and analysis of their hyperspectral data in their Iron Bridge Project.
Hyperspectral data had been captured for years at the project but the integration between the two technologies allowed greater visualisation of the data and allowed for easier validation of the data by metallurgists onsite.
The integration between Coreshed and GIM Suite was first introduced in GIM Suite 2.1 giving users the capability to layer images and hyperspectral data on strip logs providing greater context of geological data.
Connectivity
The GIM community were also treated to the very first live demo of the new integration between Reflex Hub and GIM Suite. acQuire and Reflex first presented their vision for the connected mine at PDAC 2017 earlier this year along with ARANZ Geo.
The connected mine is the move to a data-centric ecosystem of connected, more specialised software and sensors that work together to provide the right data, at the right time to the right people to make informed decisions.
The connected mine shows how data can flow from the various stages within the mining value chain, from acquisition (Reflex Hub) to consolidation (acQuire GIM Suite) to analysis (Leapfrog 3D), while minimising the loss of important meta data along the way.
Listen to acQuire, Reflex and ARANZ Geo talk about The Connected Mine here.
GIM Suite 3 Release
acQuire tech experts also gave attendees an in-depth look into the latest GIM Suite 3 release with important tips for maximising the value of their technology.
GIM Jam Mastermind events occur around the world, throughout the year. Head to our events and bookings page for more information on upcoming events.