If there's one thing mining needs, it's a speedier way to capture blasthole samples. Samplers and pit technicians are often faced with limited or no connectivity in the pit, which makes a job with tight time restrictions even more difficult. So how do you collect and record accurate samples while working under time pressure in remote areas? That's exactly what acQuire addresses in GIM Suite 4.2 and the newly enhanced Arena mobile app.
The challenge of collecting blasthole samples for grade control
Speed is of the essence when working with blast patterns. Sampling blastholes for grade control requires pit technicians to travel light and keep nimble. The gap between drilling and charging the blastholes is short, leaving little time to collect the sample and get results back. Without reliable internet connections, pit technicians frequently rely on logging data on paper to keep ahead of the blasting schedule.
The manual logging of sample data has always been prone to error, either during the logging process or while transcribing the data into a geoscientific database afterwards. No matter how careful you are, human error is inevitable, especially when you're logging samples in a hurry.
Smarter, streamlined geoscientific data
In an effort to improve the quality of the data captured in the pit, acQuire has enhanced the Arena mobile app in GIM Suite 4.2. You can now rely on smarter data capture for blasthole sampling and logging, and you don't need an internet connection to use it. Building on the mobile app technology released in 4.1, GIM Suite 4.2 makes use of the equipment you already have – a smartphone or tablet, with Android or iOS operating systems. The direct integration with GIM Suite provides a smarter data workflow that's efficient and, best of all, it's easy to use.
In GIM Suite 4.2 you can:
Visualise blastholes on an interactive map and capture samples directly to your mobile device.
Position yourself on a map in relation to blastholes, which allows you to continue capturing and logging data even without a reliable internet connection.
Synchronise your validated blasthole samples straight to your GIM Suite database.
Assign your samples to a despatch and create a sample submission report, ready to send to a laboratory.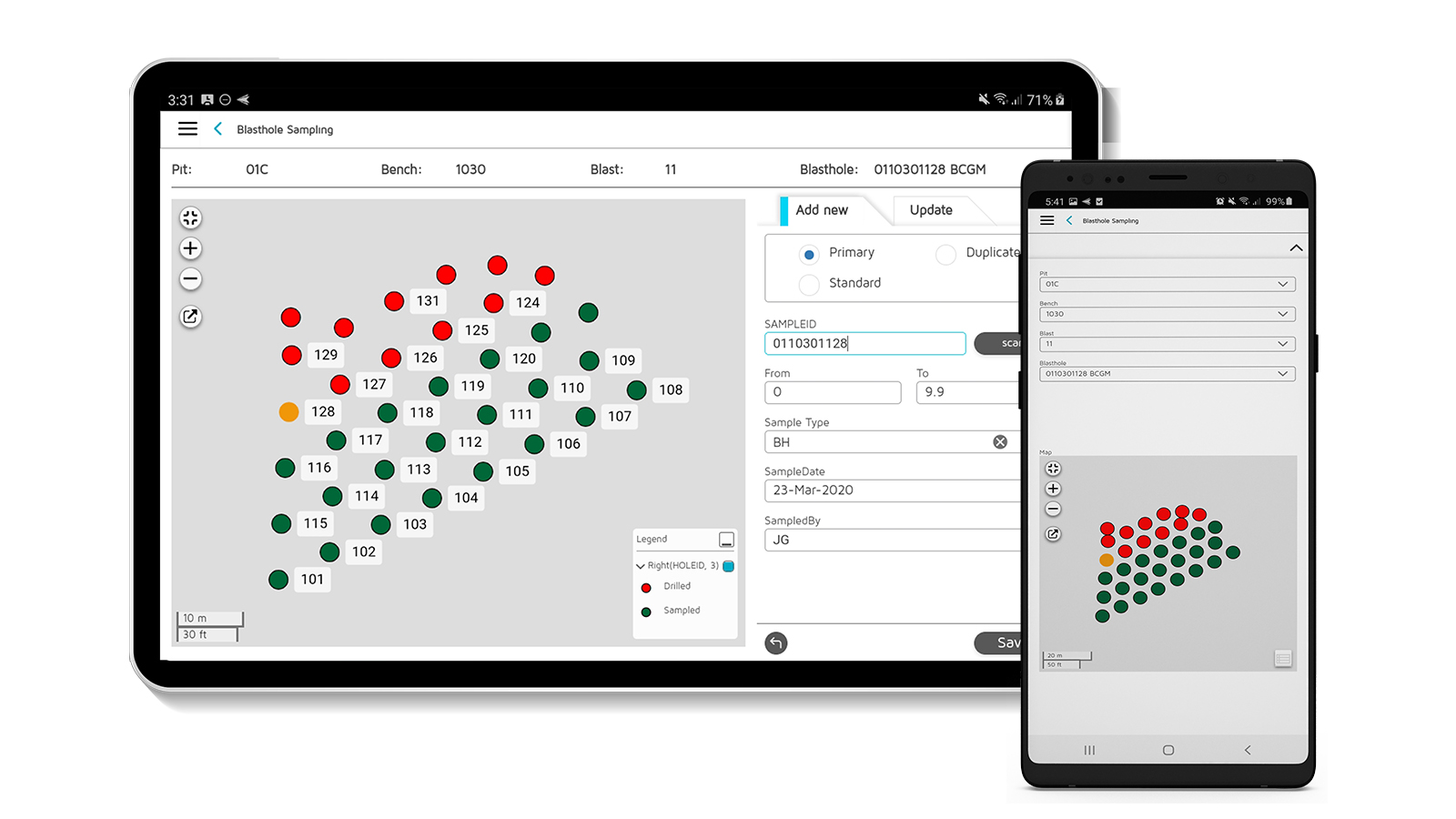 Technology road map for geoscience data management
While the Arena mobile app improves the efficiency and quality of capturing data in the pit, the direct integration with GIM Suite technology assures miners they're getting the most reliable data management solution for the entire workflow.
The Arena mobile app improves the accuracy of information captured and logged in the pit. Pit technicians and samplers benefit from built-in quality checks that prevent unintentional errors and provide pre-configured fields to increase accuracy. This means you can work with a minimal amount of equipment and move quickly from blasthole to blasthole, knowing your samples have been logged accurately.
Even when there's no internet connection, the Arena mobile app lets you see the blastholes on a map so you can easily identify where you are and keep capturing and logging with confidence.
Your blasthole samples are validated on capture and then ready for synchronisation with GIM Suite 4.2. Finally, you can ready your samples for submission to the laboratory.
acQuire's goal is to make it as easy as possible to capture and log data for open pit grade control and surface sampling. This involves developing modern solutions for digital data capture and logging of geoscience data as much as possible. GIM Suite 4.2 is acQuire's latest release of their technology road map for geoscience data management.
For more information about blasthole and surface sampling
Find out more information about acQuire's latest software release – GIM Suite 4.2 and our enhanced Arena mobile app – by heading over to our latest release page.
If you want to talk to our friendly team about how you can go truly mobile with GIM Suite, then contact us. Or just drop us a line at sales@acquire.com.au and we'll get in touch with you.