Mining and exploration companies have a particular set of challenges they face to ensure their geoscientific information is managed as effectively as possible.
This year at the Convention of the Prospectors & Developers Association of Canada (PDAC), the GIM Panel, hosted by acQuire, discussed current challenges and trends impacting geoscientific information management (GIM) for the natural resources industry.
Guest speakers, Mike McClelland (Director, Land Tenure & Information, Cameco Exploration), Dan Taranik (Director, Exploration Mapping Group) and Jason Dunning (Group Manager, Geology & Exploration, Nyrstar Mining) highlighted significant challenges they see for GIM in mining and exploration companies in today's market.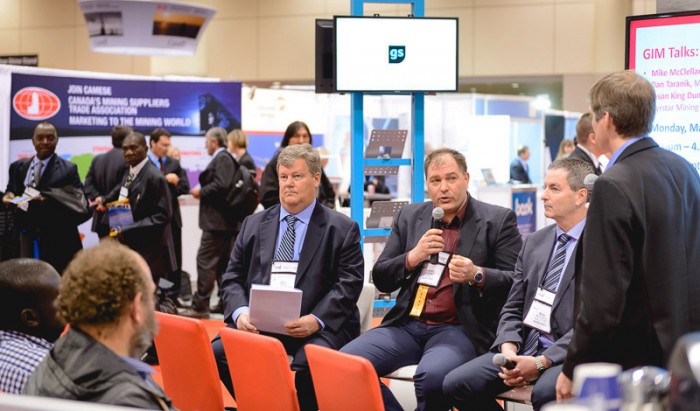 All agreed that the following five factors were pivotal to the advancement of GIM and, intrinsically, to the success of mining and exploration companies into the future.
1. People
Integrating a new data management system requires a champion for that function. There is a long history in the industry between data collection and spreadsheets, and many companies rely on their geoscientists or engineers. Whilst highly accomplished in their respective fields, they may not have the necessary background understanding of databases.
The effective integration of a GIM Solution requires people who understand data, know what the data means and how people use it.
2. Process
Many companies grow by mergers and acquisitions and they inherit mines. They also inherit whatever processes the original business used. Cohesive and accurate process can become a challenge.
Cohesive process requires all aspects of the business model to have an understanding of the work flow – from the mine site and the exploration project, through to the corporate office. An adherent process leads to flow path efficiency and its associated benefits.
"As an industry, we're great at collecting data and poor at storing it or utilising it", says Mike McClelland.
3. Infrastructure
The importance of appropriate IT infrastructure cannot be overstated. In order to maximise and leverage the power of GIM software, such as acQuire's GIM Suite, companies need the right IT infrastructure – the server, cabling, laptops, tablets etc. Without it, effective information management cannot surpass the technical levels of Excel spreadsheets.
Currently, industry trends motivate companies to seek out cost savings, but the right software and hardware will generate trickle effect benefits.
"It's not just about data collection and managing, it's the trickle through of that information. When you aggregate all of those cost savings, it's not just a single simple cost. It can actually be quite substantive", explains Jason Dunning.
4. Funding
During a down turn  drilling, sampling, geophysics and direct discovery technologies are considered essential functions. Expenditure on information management on the other hand tends to be seen as one of the first  cost saving initiatives.
Investing in information management is ultimately a long-term business improvement.
The implementation of proper information management systems and proper integration will bring time-savings. Time-savings equate to salary and benefits right down the chain. From improved information flow for quicker drilling decisions; less standby time; decisions on how to design a stope underground (which means you get the drill and blast design done quicker); all of the pieces in the mining chain become more efficient.
5. Leadership
In an environment where cost saving is king, data-driven decision-making is necessary. Executive management need to be influenced and engaged, as they need to lead the culture change to perceive geoscientific information management as a pivotal high-end metric.
To make change, senior management need to presented with strong business cases built around the four pillars of people, process, technology and data. In this context, effective management practice will achieve the cost savings of spending money now to make money in the years ahead.
More challenges and upcoming trends impacting geoscientific information management (GIM) for the natural resources industry were discussed during the PDAC panel discussion. Watch the full video for in-depth insights from this years' panelists.