25 Nov 2020 - Technology - GIM Suite, Industry News, Company News
acQuire has recently released new updates to its geological data management solution – GIM Suite. The new updates extend its web and mobile capabilities for geology teams sampling blastholes in mining production.
GIM Suite 4.3 helps geologists and pit technicians who operate in a time pressured environment, to rapidly log geology for sampled and unsampled blastholes using a mobile app.
This improves the quality of data collected, especially as data is validated as it is entered and also boosts productivity with new time-saving features helping teams capture as much data as possible in a short period of time.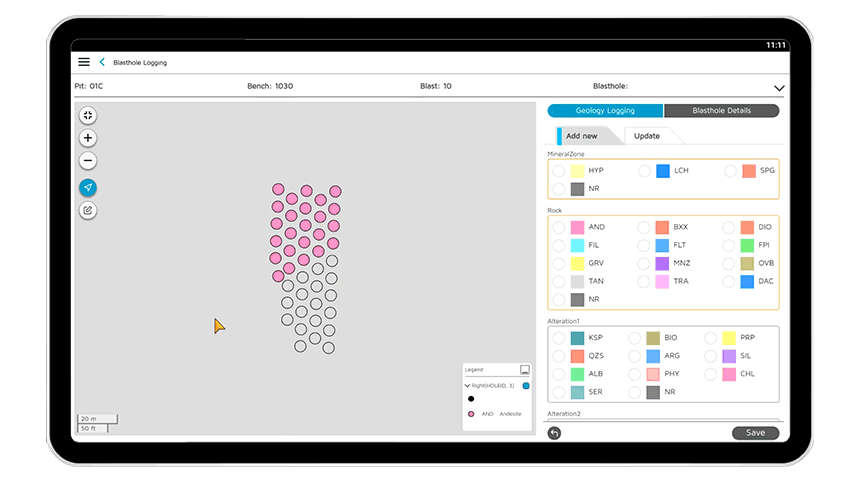 New time-saving features include an interactive map that allows users to quickly see which blastholes they've collected data against. Samplers can also select multiple holes and quickly capture similar geology in one go. If additional blastholes or re-drills are discovered while sampling in the pit, geology teams save time by adding the hole to the blast pattern on a mobile device, right there and then, and continue collecting data.
acQuire also recently announced a new collaboration with Imago, a cloud-based image capture and management tool. It allows GIM Suite customers to view high-quality images within GIM Suite's web interface due to a direct integration with Imago in GIM Suite 4.3. The new dynamic image integration improves the productivity of geology professionals, the accuracy of their geoscientific information and the ease in which they manage geological data. The collaboration is part of acQuire's ongoing strategy to develop greater connectivity between software developed for the mining industry.
GIM Suite 4.3 enhancements are the result of acQuire's continual focus on research and development to deliver seamless integration between web, desktop and mobile applications. It ensures customers continue to benefit from industry-leading software that is fit for the purpose of enterprise-wide data management of geological data.
acQuire provide geoscientific information management software and services for the global mining industry with five offices worldwide and customer support centres operating in each major time zone.
To learn more about GIM Suite 4.3, visit our website.