acQuire Technology Solutions is featured as one of Asia Pacific's Top 25 Big Data companies in the latest APAC CIO Outlook magazine.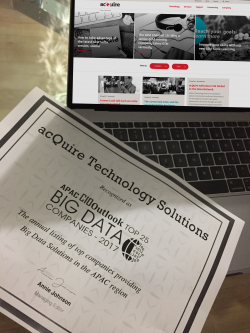 APAC CIO Outlook has published its annual listing of top companies providing Big Data Solutions in the APAC region.
The list identifies some of the most prominent organisations in the industry capable of leading customers to excellence through their solutions. The top 25 list assists companies in finding the right services for their specific requirements and to help them enhance their expertise.
acQuire is recognised alongside these top APAC companies for providing one of the leading software solutions for natural resources organisations, enabling the capture, management and delivery of geoscientific observations, and measurements of data.
Find out more through the links below:
acQuire Technology Solutions: Developing the Single Source of Truth for Geoscientific Data >