acQuire is excited to join more than 7000 African mining stakeholders at the 2016 Investing in African Mining Indaba conference.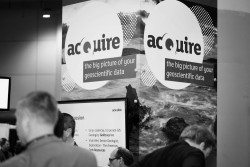 You can find us at the Australia Lounge in the exhibit hall from the 8 to 11 February at the Cape Town International Convention Centre.
Connect with the acQuire team to discuss how the GIM Suite 2 software enhances confident decision-making at all levels of management.
Discover more about our latest software release, GIM Suite 2.1, which provides important updates to your GIM Suite 2 software to help manage your geoscientific data more efficiently.
You can stop by the Australian Lounge any time during the show. Our event team are a friendly bunch and whether you are (almost) as passionate about your geological data assets and data quality as we are, or you want to learn more about acQuire and the part we play in the natural resources community, we'd love to see you!
How to connect with us
Our Mining Indaba event team includes:
Andre Oosthuizen, Regional Manager Commercial Support
Rodrigo Nobrega, Global Manager Support
If you would like to guarantee some one-on-one time with during the conference, contact us at sales@acquire.com.au to schedule an appointment.