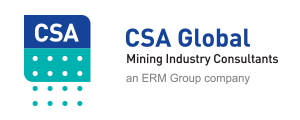 CSA Global is a privately-owned, independent business that has been providing mining, geological, technology and management consulting services and advice to companies in the international mining, banking and finance industries for more than 30 years.
Our extensive team of specialists including: geologists, engineers, mining consultants, data scientists and technology experts are some of the most experienced and sought-after individuals in the industry. Collectively, we have delivered more than 7500 projects in the corporate, mining, resources, exploration and technology space.
Our teams are committed to maximising potential for our client's projects through excellence, innovation and collaboration. We offer trusted technical and expert services to manage projects worldwide from our offices in Australia, Canada, Indonesia, Singapore, South Africa, Russia, United Arab Emirates and the United Kingdom.
Technologists
Maeve Murphy - GIM Suite Professional
North America
Maeve Murphy has been active in both the Mining and Exploration Industries for over twenty years, in various aspects of geological computing. She was exposed to the acQuire GIM Suite in its early days in Zambia in 2000 and has seen many changes to the solution since then. She has worked in various capacities for large corporations and consulting companies and spent some time as an independent consultant. She thrives on solving problems and helping users reach a point where they can maximise the use of their data investment.
While working independently, Maeve provided a service to a gold mine in Northern Ontario, providing end-user support on site and remote assistance to the DBAs.
In recent years, Maeve was involved with the collection and storage of Rock Engineering data in GIM Suite which allowed the integration of field data and office applications along with geology and assay data. Much time was spent enhancing the data collection with the goal of minimising errors at the point of data collection.
Much of what Maeve knows comes from the many years working on various projects in different settings and commodities and is excited to be a Nova Partner.
Jaisakthi Ray - GIM Suite Practitioner
Australasia
Jai has over 18 years of experience in Information Technology, specialising in the areas of geological database management for the last 12 years. He has acquired vast knowledge and exposure to various database platforms, business analyst, training, project management and mining processes.
Jai is a Microsoft Certified Technology Specialist in SQL Server and is proficient in utilising database management tools to provide technical leadership to various exploration, resource and corporate stakeholders.
He has previously worked as a senior database specialist for various mining companies including Barrick Gold, Goldfields and Northern Star Resources. Jai is adept in dealing with geological data on a daily basis and always strives to deliver the best possible data solutions